When making a purchase of electric scooters there are certain key points that need to be looked up, checked and sworn by in order to make an informed decision.
Especially people living in the hilly regions, getting their hands on an appropriate e-scooter to achieve optimum performance throughout their bumpy and terrain-filled rides is a matter of thorough research regarding the capabilities of the scooter to make sure it fits to serve their purpose.
If you're in a hurry, you can safely choose between one of the following e-scooters. They are amazing for climbing hills:
First and foremost, what puts any regular electric scooter on a totally separate footing from the ones designed to climb hills is the ability to work their way up inclinations.
For instance, any ordinary electric scooter has a climbing angle of 10-12 degrees, which might be enough for slightly steeped slopes but not for highly steeped hilly areas where every hill has its own gradient.
We will guide you through the process of choosing a good electric scooter for hilly regions and we will present you our top 5 electric scooter picks.
Climbing angle
For such areas, scooters with climbing angle over 20 degrees can prove to be suitable. Some scooters like NANROBOT X6 and Dualtron II S, supports load locomotion at up to 30 degrees inclination up the hill, some like the Q1 Hummer supports up to 35 degrees of uphill ride and others like OutStorm also claim their electric scooter can ride hills over 30 degrees of inclination.
You won't need more than 25-30 degrees unless you are doing extreme off-road!
To make a smart buy in e-scooters the climbing angle is one of the most crucial features that must be taken into account.
A couple of other key features that play a pivotal role in the fabrication of an e-scooter ideal for climbing hills are the battery and the power of the engines. The scooter is driven by the engine, and hence, the mere checking of mileage when buying an e-scooter does not suffice, the crux of it should lie in checking the engine strength.
The amount of effort required to drive a scooter on a stepped surface is much more than driving a scooter on a plane one, which is where the mileage suffers due to the effort lost in operating it upwards.
The steeper the path gets, the more the strength of the engine is put to test, and therefore any good e-scooter that claims performance in hilly roads must have an engine power of over 500 W and battery of at least 25V- 30V or above.
Bad scooters for climbing hills
Electric scooters like, GOTRAX Glider and Razor E200 have engines that are relatively less powerful, of 250 W and 200 W respectively, which leads us to the inference that these can work well at inclinations up to 10 degrees but would not make good commuting vehicles at steeper areas.
Good scooters for climbing hills
Whereas, scooters like Super Turbo Elite and NANROBOT X6 have an engine power of 1000w, and Qiewa Q1 Hummer has an engine power of 800 W, making them great scooters for traveling around in steeper areas.
Speed and Power
A speeding scooter travels much easily through the bumps and convolutions that the hilly roads are laden with. Electric scooters that can travel with a speed of 25 miles per hour or over give optimum performance climbing uphill routes. Among other things, features such as tires, suspension, and portability must be accounted for when making a purchase. Do you wonder which is the fastest scooter and what is the average speed of an electric scooter? Check out our article on electric scooter's speeds.
Suspension
Suspension helps in even distribution of our weight when we're driving on an inclined or declined surface. For instance, while driving uphill, most of our body weight falls on the rear wheel of the scooter which may lead to dis-balance, but due to suspension, the weight is evenly distributed. Read more if you really need suspension or not in this article.
Tires
Similarly, when driving downhill, most of your weight does not fall on the front wheel due to suspension. A pair of good tires runs a long way in scooter drives across hills, they help in creating more friction which helps going uphill more smoothly, and in case of driving downhill or driving in the raining season, they prevent skidding of the vehicle.
Moreover, a large pair of tires is recommended more than the smaller ones because they can work with more load than usual. Portability is another aspect that demands accountability because a light and foldable scooter can be easily stored or carried when traveling with it to workplace or school. It also serves a great advantage if and when the vehicle acts up, it could be folded and carried without having to ask for a backup vehicle to carry it.
These are some of the essential criteria to run by in selecting the ideal electric scooter that will perform efficiently in hilly areas and prove to be durable in such conditions. Here are the top five electric scooters that fulfill these parameters and has been efficient in delivering what they claim.
Tips for climbing steep hills with less powerful scooters
Here is a cool video presenting the basics of climbing hills with Xiaomi M365 e-scooter:
Best Electric Scooters for climbing hills
1. Qiewa Q1 Hummer Electric Scooter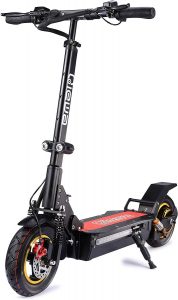 Qiewa Q1 Hummer is a stellar performer and checks out all the specifications that we consider before buying an e-scooter. Its superior built and the motor has put it on a different scale altogether from other scooters.
Powered by an engine of 800 W and 48V 26Ah lithium battery that enables it to travel up to 65 miles, at a speed of 37 miles per hour, in one go. It can carry up to 550 lbs of load, making it a suitable ride for adults.
The climbing angle of the scooter is 35 degrees which more than what one can ask of a scooter for traveling uphill. The 10″ pneumatic tires and 45 degrees double shock protection gives smooth rides on hilly roads. Disk brakes on both front and back wheels provide extra stabilization when brakes are applied. Additional features such as aluminum alloy body, IP65 waterproof, anti-theft device, and a screen indicating speed on the throttle, make it all the more convenient for riders.
Moreover, not only is it rider-friendly but also highly portable, weighing only 55 lbs and being foldable to a size of 3 feet, it can be carried easily and kept stored anywhere without occupying a whole lot of space. It does not come with a seat but it supports a detachable seating arrangement if you buy a seat separately. All-in-all Q1 Hummer is a great pick for people who travel regularly on hills-great for traveling to workplace or to groceries since it supports extra load-making it our top pick.
Click here to check the current price on Amazon.
2. Dualtron II S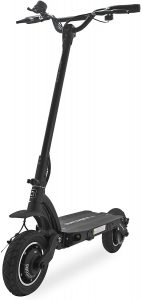 The Dualtron II S is a beast that comes with an ultra-powerful dual BLDC dual hub motor that generates 1800W delivering a blazing speed of 30 miles per hour and has 60V battery ideal for scooting uphill.
It has an amazing battery back up with triple auxiliary charging ports each when plugged in charges the scooter in varying degrees of time. The 2A port charges it in 8 hours, 4A charges it in 5 hours and the last one, 6.5A does it in a matter of 3hours giving it a range of 55 miles to run at one-time charging.
The Dualtron II S is designed to deliver maximum efficiency nevertheless always remaining in your control. It has dual suspension (front and back) for greater shock absorbing when riding through rough areas to preventing jerking and shock. With 10-inch pneumatic tires, the wheels provide a firm grip when traveling through slippery roads.
The Dualtron II S also comes with an LCD display that keeps you connected with your ride. This electric scooter can climb inclined surfaces up to 30 degrees. This powerhouse of an electronic scooter is a must have for all those wanting to get the best of their vehicle.
Click here to check the current price on Amazon.
3. NANROBOT X6 or D6+ High Speed Electric Scooter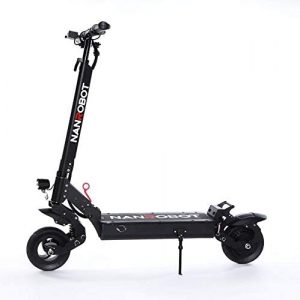 Update: Nanrobot D4+ may not be available from now on. Nanrobot launched X6 model (link to Amazon) and D6 or D6+ (link to Nanrobot website),
X6 Model has a 500 watts electric motor but it's still powerful and able to climb 20 degree hills.
The D6+ is a beast, with 2000 watts it can climb any hill you can find. It has 10-inch pneumatic off-road tires which are perfect for hills
Here is the old review of the Nanrobot D4+:
Our third favorite among heavy-duty electric scooters is the mighty NANROBOT D4+. It comes with a 1000W motor making it stand towering tall over other scooters in terms of engine performance.
It supports up to 330 lbs of load and makes it's way up at inclination up to 30 degrees. Moreover, it has the battery backup of 23.4 Ah enabling it to travel for 40 miles at a stretch at a speed of 40 miles per hour. Its 10″ pneumatic tires offer superior grip for safer rides downhill and in monsoons.
EBS disk brakes on both front and back wheels permit stable application of brakes in case of emergencies. For smoother and bump-free rides there are 6 suspensions that shock-proofs your rides and distributes weight efficiently without creating extra tension over the wheels.
Like the Q1 Hummer, it also comes with a detachable seating system. It is foldable which makes it easily portable, the only con being its heavy weight of 70 lbs. The NANROBOT D4+ is a perfect pick for all those who are looking for a powerful engine and high-speed electric scooter to sweep through the hills like a gust of wind.
Click here to check the current price on Amazon.
4. Turbo 1000 Watt Elite 36 V Electric Scooter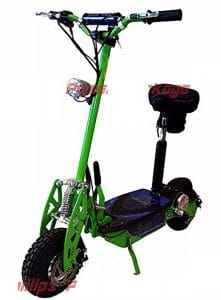 Turbo 1000 Watt Elite boasts a high power engine and the top-notch 36 V lithium battery for highly efficient performance in attacking the terrains of hill slopes. It has pneumatic tires for better grip, disk brakes on the front and rear wheels, mono shock suspension in the front and dual shock suspension at the back for smoother rides, highly durable steel body which makes it even more sturdy and removable seat included with the scooter.
Despite all of the facilities that come with this scooter, the highlight of it remains its super powerful battery that accounts for much its impressiveness. A 1000 Watt battery with a drive-chain motor that runs at 3000 rotations per minute is remarkable indeed. It offers a speed of 26 miles per hour. The battery back up is 12 Ah that gets fully charged in 6-8 hours and gives the scooter a run range of 8-10 miles. It can support loads up to 250 which is suitable for both kids and adults.
Its foldable design makes it easily portable, and the storage bag included with the package helps with its storage. One of the most unique features of the Turbo 1000 W Elite scooter that sets it apart from other scooters in the same range is its two modes of operation-the economy mode and turbo mode.
The economy mode works to save battery while running on an average speed, while the turbo mode switches the vehicle to a higher speed. The other additional perks that come with the scooter are front LED light and a turn-key ignition to prevent accidental starts.
The only noticeable con in the Turbo 1000 W Elite electric scooter is its whopping 70 lbs weight, which makes it difficult to lift and carry around. However, all the other benefits make up for its minor flaw making it a good purchase of electric scooter that makes its way through the terrains of the hills.
Click here to check the current price on Amazon.
5. OutStorm Electric Scooter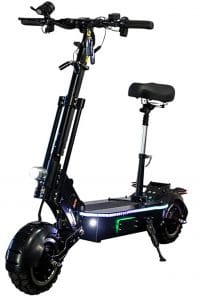 The OutStorm Commuting Electric Scooter comes with a 3200 Watt engine at peak, which is a powerful option for those living in steeper areas because the scooter supports travel up to 30 degrees of inclination. It has 2 electric motors, so the combined power is up to 5000 watts which is amazing.
It's also fast, capable of reaching speeds of 56 mph, way above the legal speed but it demonstrates it has enough stamina for climbing steep hills.
The maximum load weight of the scooter is 385 lbs, enough to support any adult to travel around even with moderately heavy luggage or belongings. It has lithium-ion batteries that take 9 hours to charge and gives a run range of 56 miles at stretch.
The tires of this ride are pneumatic for good grip and friction, however, they vary in size. The tires are 11″, making it a safe ride even for the worst roads.
The shock absorbing property will give you comfortable rides. It's sturdy and durable but it's not as portable as other e-scooters because of it's weight. The box you'll receive is over 120 lbs.  The range and speed of 54 miles/miles per hour only adds to its many qualities as a good scooter.
This might be the best option for those living in hilly regions, but its a great deal for moderately hilly regions- an ideal for traveling to workplaces, markets or school ultra-fast.
Click here to check the current price on Amazon.
Conclusion
All these electronic scooters have delivered stellar performances in terrain-laden hilly roads. Each of them has its own unique selling points and have delivered promisingly the claims that they make.
Standing head and shoulders above in some of the most crucial aspects that make a great e-scooter, is Qiewa Hummer, which is our top pick. The NANROBOT X6 and Dualtron II S come in close succession in delivering efficiency when traveling in hilly regions.
However, while making a choice in e-scooter, you should keep your priorities in mind, be it engine, mileage or battery; the best purchase is the one that suits your needs. Read more if buying an electric scooter is worth it here.