Electric scooters are compact and easy to throw in the back of a car, but also a perfect vehicle for some off-road fun. The advancements made in battery and motor efficiencies have made them practical for this sport. Off-road, the power of an E-scooter can be unleashed. If you have managed to get to a track for the weekend, you will want to plow around uninterrupted and a small battery will limit that ability.
Any electric motor above 500 watts is acceptable, but the true excitement comes with powers above 1000 watts or even 2000 watts. A 2000 watts E-scooter should have greater than 20 Amp-hours of power at hand. Big batteries add weight, but these machines use energy fast going up hills and accelerating.
If you intend to use the scooter for commuting and off road use at the weekends, it may be worth considering getting two-sets of tires. Airless, smooth, rounded tires are suitable for town use only. Solid tires may be minimal maintenance, but abused on a track they will not last long. Dirt-tracks require fat-wide tires, over 10" in diameter with deep tread for maximum traction.
At the very minimum, any scooter should have disc brakes at the front, preferably the rear too. Larger scooters should have anti-lock and regenerative braking. You need to look at how the E-scooter will manage the bumps. A full dampening suspension will give a smoother ride at the cost of adding weight. To make it on the list, the top 5 of the Best Off-Road Electric Scooters need grip, power, and agility.
Here are some electric scooters that will perform well on an off-road terrain:
1. NANROBOT D4 + 2.0
Link to this electric scooter on Amazon.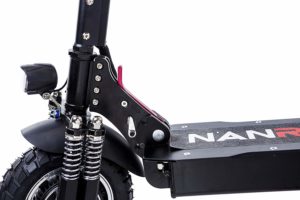 Dual 1000W motors will power this machine up to 40 mph on a straight, that is fast for something that you need to stand on. All-wheel drive keeps the ride stable, fast, and safer than that of a single-motorized wheel. When talking about 2-wheels, it is one of the most important aspects to look for in powerful E-scooters. In a straight line it does not matter as much, but going around corners, high wattage motors need to distribute the power in a controlled way. The D4+ is good for all levels of ability. Additionally, being one of the more common brands, spare parts will be easier to find.
SPEED: 40 mph (or 64 km/h)
RANGE: 45 miles (or 72 km)
Cons: Brake Issues
Ratings:
Range:
Ruggedness:
Raw Excitement:
————————-
Result:
2. Dualtron Thunder
Check the current price on Amazon here.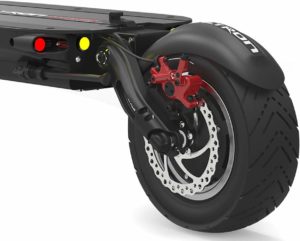 Raw Excitement:
————————-
Result:
3. Jueshuai JS
Check this electric scooter on Amazon here.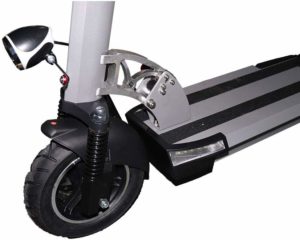 A little tamer in comparison, but still offering an exciting ride is this 500W scooter that will push past 25 mph. A single brushless hub-motor does all the work inside of the rear wheel, saving space. This might be more suitable for those that want to take the scooter to work, and off road at the weekends. The 48V 26Ah battery will give it a range of 60 miles on a single charge if ridden in economy mode. That is hours of speeding around without the worry that it will just stop and maroon you in the middle of nowhere. If you choose to go full power, the range will reduce right down to 10 miles. It is a big battery, and it takes between 2 and 8 hours to recharge.
The design is small and simplistic, folding down to a manageable 47x10x15 inch package. The size of this scooter is deceptive, it is stronger than it looks, and has the power to carry a 350-pound adult. Disc brakes front and rear with spring suspension should help with the fact that the 10" tires are airless. Despite a stiff ride, air-less tires have the advantage that they will not puncture, but there is no repairing them when they break. This will work on a firmer off-road track but will not be any good on sand or dust. The wheels are too narrow and firm to give traction on any demanding surface. Even still, this is a good entry-level scooter.
SPEED: 15-28 mph (or 25-45 km/h)
RANGE: 62 miles (or 100 km)
Pros: Charge-Time, Size
Cons: Build Quality, Solid Tires
Ratings:
Range:
Ruggedness: 2
Raw Excitement: 2
————————-
Result:
4. Qiewa Qpower
Check this e-scooter on Amazon.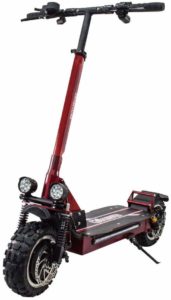 This is an interesting scooter from Qiewa and uses the most sensible design. The parts are simple, they are all easy to get to and change. It will not win any beauty competitions, but the dual 1600W hub-motors will get you to a worrying 50 mph on the flat. The 11" wheels are pneumatic and have independent traction control for a stable ride over lose ground. These are wide tires, far too flat to be stable on a normal road, but perfect for sandy tracks. Disc brakes, front and rear, make stopping in emergencies that much more possible. In addition, 6-shock absorbers keep the vehicle firmly planted on all uneven surfaces while further smoothing out the ride.
Powered by a 48V 26Ah battery, it will get up to 60 miles on a single charge. Another powerful scooter that the manufacturers claim can make it up 45-degree inclines. The last thing that you want to do on a track is having to push the scooter up a hill because it does not have enough guts. Qiewa has tried to keep the weight down by building the frame from aluminum. The package comes with a small tool kit for basic tightening jobs on the go, as well as a charger. It is a good off-road scooter with double-barrel headlights, the side paneling has LED strips for that flash look. This is built to be rugged and the tires just speak, off-road. For the power of the scooter and its off-roading capabilities, this is a fair value E-scooter, even if it is a little bit square.
SPEED: 53 mph (or 85-90 km/h)
RANGE: 50 miles (or 80 km)
Pros: Range, Wide Wheels
Cons: For Advanced Users
Ratings:
Range:
Ruggedness:
Raw Excitement:
————————-
Result:
5. Speedway 4
Check out this e-scooter on Amazon here.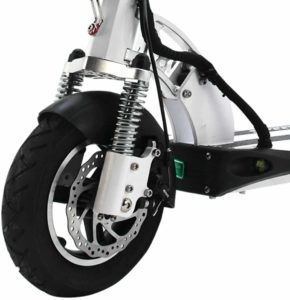 Some of the statistics seem a little too good to be true considering the price of this scooter. A 600W motor that will hit a maximum speed of 35 mph on level ground. This will be down to the hub-motor running off a 52V 30Ah battery. To be realistic, this is an entry-level scooter when it comes to off-roading. The manufacturer claims that the battery will give the scooter a 70-mile range, that is a long way to go in a car, let alone standing up for an hour. The styling is also appealing, the model has a spaceship-curved look to it. Dual disc brakes front and rear will give it good stopping control. They have even built front and rear shock absorbers, on top of using pneumatic tires. The tread is suitable for uneven surfaces, but the tires are too narrow and small, at 10"x2.5", to cope with sand or heavy dust.
Headlights are set into the front of the frame and a tail-light set into the rear mudguard. The clean-looking LCD panel on the handlebars displays mode, speed, and power in the batteries. A thumb throttle, as is becoming more popular with manufacturers, allowing both hands to grip the handlebar. The biggest redeeming factor of this scooter is its' weight at 62lbs. This is a lot lighter than many competitors and still has enough power to have some fun. Someone buying this scooter may use it for a while, then realize they should have bought one with more power to cope with jumps better. This is a value scooter, suitable for firmer off-road tracks.
SPEED: 35 mph (or 56 km/h)
RANGE: 70 miles (or 112 km)
Pros: Speed, Weight
Cons: Power, Narrow Tires
Ratings:
Range:
Ruggedness:
Raw Excitement:
————————-
Result:
Key Components
Suspension & Tires
The looks of an off-road scooter should be less important than its' ability to make it over soft ground. Wide tires and deep tread aid in good contact with a surface. Shock-absorption and traction control help to keep the scooter going in the direction that you want to go. The more complex the design, the less likely you will want to take the scooter off road to see what it can do. A design with more curves will be difficult or impossible to repair without a full workshop, a simple box housing is easy to repair.
Power
High speed and acceleration are the key criteria of all vehicles, something that feels exciting will have a high-top speed. A higher power motor equals better acceleration. Good acceleration is going to be proportional to the scooter's climbing ability. You want a scooter with a high-top speed and able to climb, at least, a 30-degree slope. If the ride is too mundane, you will end up never using it.
Battery
Battery life is determined by the size of the motor, or motors used. A 36V battery is around the minimum that you would want for an off-road scooter. A 1000W motor on 36V will need a power-pack of over 8Ah for heavy off-road abuse. The QIEWA, for example, will use its 48V 26Ah battery in under an hour because it is running two 1600W motors. If you are planning to use it off-road, you will not want to be recharging the battery after 10 minutes. Even with regenerative braking, the batteries will drain fast, more so with erratic driving.
Accessories
Deep tread on tires is important for off-roading but will be a lot less controllable on normal roads. Expensive gauges and controls will break on light spills and be difficult to fix. With the fast-changing laws on the use of E-Scooters on public roads, they need lots of lighting. They should all have headlights, taillights, and brake lights. Even if it is not the law now, it is common sense to make yourself as visible as possible. The lights should be easy to remove when using off road, or at the very least, be well protected.
The Choice
For pure speed junkies, the Dualtron Thunder and the Qiewa, claim the best top speeds. But it comes back to the question of whether you want to be standing on a small board going 50 mph.
Both the designs are simple and are scooters that you would feel comfortable making a mess of. The Speedway, at 62lbs, is lighter than the other models. Even 600 watts is a lot of power, but may be just not enough for off-road. The Dualtron Thunder has enough power to battle most inclines and it can still fit in a car. The Thunder is built with, suspension and fat tires for the best performance, and 5400W will never get old. For good ground clearance and a brutal top-speed, it is Thunder all the way.