The top 5 e-scooters for big/tall people are:
1. The Nanrobot D5 + 2.0 double drive high-speed adult electric scooter
2. The Inokim OX super – foldable electric scooter for adults
3. The Zero 10x electric scooter
4. The Speedway 5 electric scooter
1. How tall should an electric scooter be?
As a rule of thumb, the handle height for the average adult should be 34" to 38" (inches) tall. That is between 86 and 96 cm tall. For taller adults, however, the height should start at 40 inches or 101 cm.
2. How to determine how tall a scooter is?
Most manufacturers and/or seller sites tell you the height of your desired scooter by the length-width-height ratio. So, for example, you would get a scooter by the measure of 49" x 10" x 45".
However, you will most likely see that some scooters do not have any measurements to their name. And not all scooters are found on Amazon.  So what do you do in this case? Well, the easy method is to ask on the internet (forums, check reviews, ask on Youtube's comment section or ask the manufacturer itself). The hard one is to take the picture of the scooter, where most sellers tell you how big the wheels are. Use that as a general rally point and then approximate the distance using the deck height.
3. What things should I look for in a scooter as a big/tall person?  
The most important features to look for are its construction (deck width, height, materials), power and range.
So what are the best 5 e-scooters for big people? Well, after some heavy-duty research, I have concluded that the following 5 models are best in serving your needs. In no particular order, they are: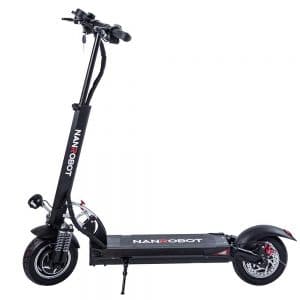 Coming in first and hot it the Nanrobot D5 +2.0.
Advantages
The first of its advantages is its height. Coming at 45 inches or 114 cm tall, it is a phenomenal choice for tall people who are looking for a good and comfy e-scooter. It also is capable of holding 330 lbs/150 kg, so it will cater to a lot of people out there.
As for power, this thing is powerful, sporting two 1000W motors, being able to switch between single and dual drive. Additionally, it boasts a 52V, 26 amp-hour 1217 watt-hour battery. This lets it reach top speeds of up to 40 miles/h or 64 km/h at a range of 30 miles/50 km, for only 5-8 hours of charge time. It is also able to ascend inclines of up to 45 degrees, despite being 70 lbs/32 kg heavy.
Next to its 10″ pneumatic inner-tube tires, it also comes with both dual disk brakes and dual electronic brakes, allowing for a great degree of control when braking at moderate speeds. Furthermore, it comes with a front spring suspension and a rear air suspension.
Disadvantages
Its biggest flaw is that its lights are not the "brightest bunch", meaning they are kind of weak. This is sort of a problem when riding while dark outside. Its high speed counteracts the whole scope of the front lights of being able to see in front of you.
Advantages
First of all, this scooter addresses today's issue by catering to tall people, by reaching a height of 47 inches/127 cm.
Secondly, it sports a very wide (for e-scooters) deck, making your ride an incredibly comfortable and pleasant thing. This is especially true if you have wide feet or are fond of a wider stance. Also, its wheels are 10" pneumatic rubber tires and it sports a patented dual-fork suspension with adjustable ground clearance. Expect a very smooth ride.
As for power, this thing is strong, sporting an 800W motor, with a peak performance of 1300W. This lets it reach speeds of up to 31 miles/h or 50 km/h, allowing for great performances when going uphill. This varies, as with a moderate weight of 62 lbs/ 28 kg, it depends on the weight of the rider on what performance it has. Also, regarding its range, its Li-ion 60V 21Ah (LG) batteries can, for 10 hours of charge time, go up to 56 miles/90 km.
As a side note, it comes with both front and rear lights, multi-function LCD screen and customizable speed settings.
Disadvantages
For starters, the biggest disadvantage one can find in a powerful e-scooter is its price tag. At the moment of writing this article, its Amazon price went on sale from 2,450$ to 1,837.50$. You cannot expect a powerful scooter at less than such a price mark.
Its second disadvantage is that this scooter is limited in how many people it can serve due to its max weight limit. It is limited at 265 lbs/120 kg, so this might not be the first choice of people who exceed 300 lbs/136 kg.
For an amazing video review, check this:
3. The Zero 10X electric scooter
You can find it on Revrides.com here.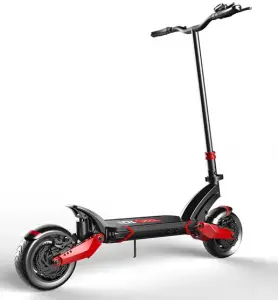 Coming in third on our list is the Zero 10x. Another powerhouse in itself, this bad boy shows off a load of specs, as to counteract its steep price point. Some even consider it the absolute best on the market.
The Zero 10X comes in three models, ranging in power and price accordingly. Namely, the ZERO 10X, ZERO 10X 24Ah, and the Zero 10X 60Ah.
Advantages
Coming in hot at 39 inches/100 cm tall and a body that weighs 80 lbs/35 kg it has more features than you could dream of.  It has a dual suspension electric system, 10" pneumatic tires, a solid body and front/rear hydraulic suspensions propped by 2 hydraulic/spring shock absorbers. This allows for a great deal of comfort for those tall among you, even when going off-road at your leisure.
As for "steam power", is sports dual 1000W hub motors (1200W for the 2,600$ model) with a peak performance of 3200W and a 52V battery (60V for the 2,600$ model). This allows it to achieve anywhere from 35 to 60 miles or 56 to 96 km per charge at speeds of 35-45 miles/h or 56-72 km/h. This is allowed through 2×25 Amp speed controllers with massive heat sinks that dissipate heat as quickly as possible.
Its braking system is applied through front/rear hydraulic disk brakes at 24Ah. Also, it comes with front and rear LED lights, so no buying them separately.
Did I mention it has a weight limit of 330 lbs/150 kg, regardless of the model?
Disadvantages
As with any other high-performance e-scooter, it is incredibly expensive. At the moment of writing this article, it couldn't be found on Amazon. However, on sites like Revrides.com you can find it at prices of between 1,700 and 2,600$, depending on specs.
The deck might also inconvenience you since it is 21 inches long and 9 inches wide or 53 cm long and 23 cm wide. It might not allow you to have a wide stance, but it is about as much as most scooters out there.
Also, the 10X is not adjustable, so keep in mind that you are stuck with a constant height of 39 inches/100 cm.
This is a great video review regarding size and portability:
4. The Speedway 5 electric scooter
Find it on Amazon.com, here.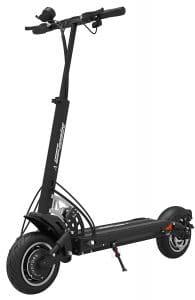 Fourth on our list is the Speedway 5 Electric Scooter.
Advantages
Just like our other candidates, this is both an incredibly tall and powerful scooter. Going by today's theme of height friendly e-scooters, the handlebar stands at a comfortable 46.5 inches/118 cm.
Seeing as how it is equipped with high performance dual 3600W power motor, in addition to its 60V 23.4Ah 1385 Wh lithium-ion battery. This allows the rider to reach top speeds of 40 miles/h or 64 km/h at an incredible mileage of ~70 miles/112 km per charge.
When speaking of comfort, it comes with 10″ 2.5-inch tubeless tires and with a dual air spring suspensions. Those twin features grant its rider a great deal of comfort when riding through small bumps and gravel. Despite this, try to avoid any other surfaces other than flat ones.
Furthermore, due to its aerodynamic frame, it is moderately light and small when packed, at only 62 lbs/28 kg, thus being relatively easy to carry and store.
Other features include front and rear (disk and electric) brakes, front and rear LED lights and turn signals.
Disadvantages
Like any other high-end e-scooters, the price tag of ~2100$ is first to catch your attention. For this scooter, the rest of the disadvantages revolve around its batteries, which are made by a Chinese manufacturer. According to many of its users, and depending on how the battery was stressed, its lifespan is, on average, about 300-500 cycles.
Its tubeless tires are vulnerable to spiky rocks and pebbles, so try keeping it on flat surfaces as much as possible.
It is also limited in weight load, being able to carry only a max load of 300 lbs./136 kg.
For more info, check this video:
5. The Emove Cruiser electric scooter
Find it on Voromotors.com, here.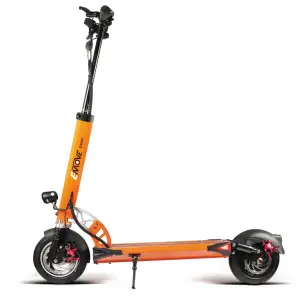 Last, but not least, we have the new and improved Emove Cruiser, which was considered one of the best e-scooters of the year 2019.
Advantages
Its first major feature is its height, the theme for today. The handlebar comes at a comfortable 46 inches/118 cm, easily catering to tall people. Also, the deck is 21 inches/53 cm in length and 10 inches/25 cm wide, allowing for a great degree of space. Its folded height also comes to a low 16 inches/40 cm for ease of storage.
Its strong frame also allows it to hold a max weight of 352 lbs/160 kg while weighing only 52 lbs/23 kg. It will, despite its sturdy nature, offer its rider a very smooth ride, because of its 10″ tubeless pneumatic tires and balanced suspension.
As the efficiency of its power systems. It has a 600W motor (1600W at peak performance) and a 52V 30Ah Lg battery with battery management system protection. With those specs, it can reach distances of up to 62 miles/100 kg per charge of 9-12 hours at 25 miles/h or 45 km/h. Related to this, also, is the godlike battery life. Should you be a short commuter, this bad boy can last for weeks (yes, weeks) until going dry.
Another one of its strong points is its IP67 water resistance rating. This is one of the best you can find on the e-scooter market today, allowing it to be ridden in wet conditions, safe for submerging it in water.
Other features include a voltmeter (for testing your battery), a 25A controller, a locking key, a kickstand, front, rear, front sidelights, and turn signals.
Disadvantages
The first disadvantage of this scooter is, as with any of those on our list, its expense. Sure, its specs are quite a steal for only 1,400$, but when compared with other models on this list, it can fall short in performance. When it comes to its specs, its producer and die-hard fans also tend to exaggerate a little bit. Although, if you do not want the best on the market, this scooter might be your go-to choice, as it was with many of its buyers.
Depending on the overall weight, it is limited in its climbing abilities, at about 10 degrees for 150 lbs/70 kg.
For its price tag though, it is hard to find any major flaws, compared to other e-scooter.
Find a great description video check this: