So you have just bought a new electric scooter. Perhaps you are thinking about buying an electric scooter.
Now, you are also wondering if there are any accessories you can buy to make your new purchase more fun.
So sit back with a cup of coffee and have a read of our guide to the best accessories you can buy for an electric scooter.
E-scooter Helmets
Let us start with the one that sometimes causes emotions to rise. Helmets. Everyone has an opinion on helmets, and many people will not be shy to tell you about their views. A helmet may seem like a safety precaution you won't need to use, but surely it is better to have one and never have to use it than not to have one and regret that decision.
You won't need to get a full face motorcycle helmet. You can use a skateboard style helmet, sometimes referred to colloquially as a pisspot, as your speeds will be roughly similar to a skateboard or non-electric scooter. The other style of helmet to look at would be an urban cycle helmet.
The urban cycle helmet will offer you more ventilation than the skateboard style. So in summer maybe run an urban helmet and in winter run a skateboard style. Some of the skate designs offer better coverage of your head, and if you are using your e-scooter on a frosty day, this may give you the confidence that you'll be safe on your way to work.
It is always worth remembering that none of these helmets will help you much in a vehicular collision. They are designed for low-speed impacts, the type you are more likely to accidentally have.
MIPS is designed to combat the rotational parts of these forces. The helmet's shell is designed to tackle the linear portion of the force. MIPS does this thanks to its design. It was developed by the Swedish neurosurgeon, Hans Von Holst to replicate your brain's protection system.
Your brain floats around inside your skull surrounded by cerebrospinal fluid. The fluid helps to buffer your brain and allows it to rotate around to minimize brain trauma. The MIPS system rotates around inside your helmet in a similar way. Think of it as doubling your safety. It can quite easily be the difference between carrying on your journey or going to the hospital.
What you need to look for is a strap that is wide and strong. The wider, the better. The wider it is, the wider spread your scooter's weight is. A thin strap will put a lot of strain on your shoulder and collar bone, and you will soon find the weight uncomfortable.
That is why we recommend the Szats strap. It is not only wide and robust, but it also comes with a shoulder pad. The shoulder pad may seem like a small thing, but it can make your journey so much more comfortable. The strap is also highly adjustable, which is handy as we are not all the same size.
We have an entire article dedicated to carrying your electric scooter. If you run out of ideas on how to carry it, check it out here.
A Bell
Have you thought about a bell? Commuting in the morning can be fun, people are walking and not generally paying attention. A bell is a great way to allow you to cut through pedestrian traffic safely, for both you and pedestrians. For some reason saying "Excuse me," does not work but ring a bell does.
We have found the Knog Oi bell to be one that can particularly cut through the noise of a city, without being as intrusive as a bulb horn. The bell starts with a low tone and this changes to a higher tone. It does sound pretty nice and as the tone changes it easier for people with their back to you to hear it.
It is pretty simple to fit, and you can run brake and throttle cables through it. The cutout design saving you from a battle with your cables to fit the bell or accidentally clamping down on a cable and no longer having a throttle.
Being made from aluminum and stainless steel you can fit and forget it on your e-scooter and it will not rust like some other bells. It also looks like a more adult solution to having a bell than many of the different designs that are currently available on the market. With a choice of 4 colors, you should very quickly be able to find one to match your new electric scooter.
Electric Scooter Locks
Have you thought about a lock? Not every shop or café will allow you to take your e-scooter in, even when folded. You also don't want to leave it outside, or your scooter might not be there when you go back. In that case, you need a lock.
You can get suitable locks in two varieties. You can get a cable lock, or you can get a D-lock. A cable lock is pretty much what you would expect, a protected cable that your thread around your scooter and a suitable piece of the urban landscape. A D-lock looks like a D and is a bit harder to thread around things.
A cable lock will be lighter than a D-lock, but this lack of weight also makes a cable lock easier to cut through. A D-lock will generally be much more secure, and if you insure your e-scooter you may find it is something that your insurer stipulates you must have.
Kryptonite KryptoFlex 1230 Cable Lock
Again no one has yet come out with a high-quality e-scooter specific lock, so we are again borrowing from the bicycle world. Kryptonite, along with ABUS, are the leaders in securing bikes worldwide. Indeed they are brands that will make your insurers happy.
The Kryptoflex is a great lock for shortstops. It is not a super bulky cable, which makes it ideal for throwing in your backpack. If you don't have a backpack, you may find taking a lock around not to be much fun.
The 1230 uses a key barrel to be locked if you live somewhere where the weather isn't great. It comes with a weather guard that automatically comes down when you remove the key. You don't want your lock to be getting rusty and seizing thanks to the rain.
It is 10' long so you should have no problems finding something to secure your electric scooter too. As it is pretty long, it comes with 2 Velcro straps to allow you to easily loop the cable and secure it when you are not using it.
Abus 410 Ultra D-Lock
The Abus 410 Ultra comes in a few varieties. It comes as a longer lock or a mini-lock. The advantage of the mini-lock is that it is easier to transport and a bit lighter, the issue for it though maybe finding somewhere to secure your scooter.
The 410 Ultra in its standard size will be easier to go around street furniture. It is also rated Sold Secure Silver. The Sold Secure ratings are ratings that your insurance company will want. The better the Sold Secure rating, the more valuable the item you can secure using it.
The shackle on the lock also has a soft touch coating so as not to destroy the excellent paint job on your electric scooter. Underneath this coating is temper hardened steel. Temper hardened steel is pretty tough to cut through, and someone would need to spend a long time to liberate your scooter.
Thieves that know what they are doing will be looking for easy targets. They will see your lock and be more likely to steal something else with an easier lock. Buy a high-quality lock and make sure you are the person that still has their scooter at the end of the day.
You can also buy the 410 Ultra with a cable lock. Allowing you extra protection by also securing your scooter with the cable. Buying it with Abus Cobra Cable should give you a much stronger peace of mind when you have left your scooter unattended.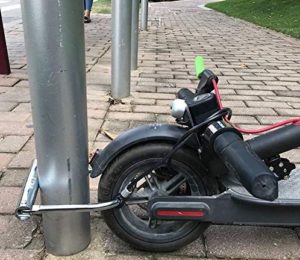 Puncture repair
Some electric scooters have air-less tires, so if you have one of these you are lucky. You won't have any problems with your tires, but your rides will be shaky, especially if your scooter doesn't have suspension.
Most high-quality electric scooters come with pneumatic tires have you thought what you will do if they puncture on the way to work? One of the easiest ways to avoid punctures is to make sure your tires are inflated. As pressure naturally drops in your tires, you are more likely to suffer from punctures.
At home, I would have a track pump for keeping my tires inflated. Track pumps will come with an easily readable gauge and will allow you to pump your tires up to pressure quickly. The ease with which they do this will make sure that you always keep your tires inflated.
We recommend the Selle Royal track pump. We recommend it as it is affordable and can inflate both Presta and Schrader valves. So no matter what valve your tubes come with this pump can cope with them. You might not want the expense of a track pump, but once you have tried pumping your tires with a standard pump you will know in your heart you should have got one.
If the worst does happen on your way to work we recommend having a Lezyne pump and patch kit in your bag.  To complement this kit you might need a set of tire levers, or you can get sore thumbs taking your tire off, we recommend the Park Tool levers. Like a helmet, this kit is better to have and never need to use, so make sure you pump your tires up at home.
Extra LED light
Most electric scooters have one by default but if you have night rides often, you can get an additional LED light. This will improve your night experience and will let you ride faster as you can see obstacles way ahead.
There are several products you can buy. One of my favorites is Bright Eyes 1600 lumen LED. Besides the bright light, it's also waterproof and the battery lasts 4H+ on high, 6H+ on medium and over 16 hours on low.
This is a practical option because it's a powerful LED so you can use it for other activities as well like hiking, camping, bike etc.
Another option is the TeamObsidian Bike Light Set, which is a good alternative if you ride on a slightly illuminated road at night.
All (or almost all) LED lights kits are universal/adjustable, so will fit any handlebar. You shouldn't have any problems mounting it as it's fairly simple.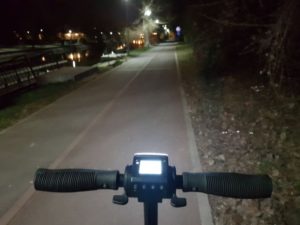 Carrying Trolley
A carrying bag is useful if you travel with your electric scooter.
There are lightweight trolley bags available made of durable materials and equipped with a 3-wheel trolley system that allows easy transport of your electric scooter.
Phone mount
If you want to track stats like your accurate GPS speeds, record your rides using your phone's camera or just using your phone as GPS it would be a good idea to get an appropriate phone mount. You can find a lot of models on Amazon like this one (metal, solid, can be rotated, etc).
Most of them are universal, so they will work with any type of handlebar. I don't suggest getting the cheapest (plastic) one because it's going to be shaky. Especially, if you want to record a video on your scooter.
Rain Coat
Raining? No problem. There is a solution to this. Get a raincoat and you will get to work or school as dry as you left home. Here is a cool one.
While riding an electric scooter is not always advised and possible, you can ride when there is little rain. Make sure your electric scooter has IP54 standard, otherwise your scooter may not be water-resistant.
Electric scooter cleaning accessories
Here is one of the best electric scooter cleaning accessory: a cleaning kit. I often ride after it's been raining and the ground is wet. My scooter is filled with dried mud and it's hard to clean. A cleaning kit eases this task a bit.
There are a lot of cleaning kits, most of them made for bikes and e-bikes but work well on electric scooters.
Conclusion
There are certain accessories that are a must-have for your electric scooter such as Helmet, Strap for carrying, Bell (if your electric scooter doesn't have one), lock (if you don't take the e-scooter with you).
And there are some accessories that are optional such as extra LED lights for night rides, puncture repair kits if your scooter has air-tires, phone support, carrying bag etc.