If you ever thought about going on an electric scooter trip with your toddler or small child, you noticed there aren't many options for small electric scooters. The best electric scooter for kids remains the Razor E100 which we reviewed in this article. However, it's only suited if your kid is already at least 8 years old.
Keep in mind that electric scooters are made for one rider only. Manufacturers have a serious disclaimer in the user manual about this. It's not advised to ride with your little child in crowded or dangerous places. Examples of dangerous locations are, but not limited to: malls, downtowns, near the road or traffic (or worse, on the road), near a school or campus.
However, for a ride through a quiet neighborhood (on the sidewalk of course), a ride in the park or forest or for camping, you can safely bring your kid on the same electric scooter with you.
But what options do you have for a child carrier?
Well, there aren't a lot of products for an extra seat on the market, but I found some that can be helpful:
an attachable seat between you (the rider) and the handlebar stem
a small deck that you can attach to your electric scooter so you child can stand up
We will talk about the advantages and disadvantages of each, but first, a picture is worth a thousand words.
Link to Amazon for the seat here or here.
Link to Decathlon for the deck here. Unfortunately, I couldn't find this product on Amazon.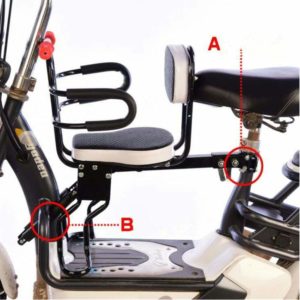 Compared to Razor E90, it has a rubber front wheel which will offer you a more comfortable ride. The E90 has a hard plastic wheel which is not as smooth as a rubber one especially on rough terrains.
Razor E100 is a little bit more expensive than E90 version but if you think the specs are worth the extra price you can go for this version.
Check the current price on Amazon here.
Conclusion
Even if a child seat or carrier is not embedded in the electric scooters, there are solutions to get your child on a ride. You can choose between an attachable seat, an attachable deck or more weird options like a piggyback carrier. If no options suits you well, you can get an electric scooter for your kid. I'm sure they don't mind presents.
As a disclaimer, I do not accept any responsibility for this information. Always keep in mind that safety is more important than fun. Always take great care of your children and don't put them in dangerous situations.