All vehicles need to steer, right? Electric scooters make no exception and it's important to follow some tips for a great ride. I will give you my tips for steering an electric scooter in the safest possible way.
We will explore the steering mechanism on an electric scooter, parts and some tips on repairing the steering mechanism.
How steering work on an electric scooter?
The steering mechanism on an electric scooter is pretty simple. As in cars, the steering is done using the front wheel. The front wheel is connected with your handgrips via the handlebar and a fork.
Moving the handgrips, in left or right will twist the handlebar, which is basically a tube. This rotation allows the front wheel to point left or right and lets you steer in the direction you want.
You may be familiar with this steering mechanism as it's basically the same mechanism used on bikes.
Another important aspect is that some electric scooters have a suspension spring between the handlebar stem and the fork. This way, shocks can be reduced when riding on difficult terrain.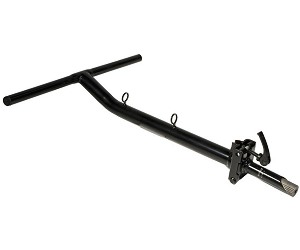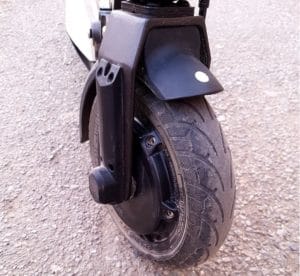 How to fix it?
The main components of an electric scooter steering mechanism are:
Handles
Handlebar Stem
Headset
Suspension (if any)
Fork
Front wheel
If your electric scooter is still in warranty, you need to take it to an appropriate dealer. Otherwise, you may void your warranty. Steering can be fixed easily if you have the skills involved. The mechanism is pretty simple, you have the handlebar stem, the headset, the fork, and the front wheel. The headset or fork are usually the parts that can be damaged.
I've not seen a lot of problems with steering on electric scooters as the mechanism is simple and there are few things that can be damaged.
I would say the headset has a problem if you can't twist the handlebar or the fork if it doesn't hold the front wheel good enough.
Conclusion
The steering mechanism of an electric scooter is fairly simple and it's usually pretty durable. There are some small tips you need to follow to be safe if you are new to riding an electric scooter. Ride safe and have fun.